00000 ARTPACK NAME / INFORMATION
Thank you for using teed shirts for all of your custom apparel needs. Below you will find that we have some ridiculously good looking artwork for you to check out. Please refer to email to request changes or to approve artwork.
Looking for a second opinion? Feel free to share this page with your friends on Facebook and Twitter with the links provided below!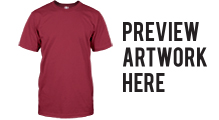 This webpage communication contains art proof(s) for your review, PLEASE check them carefully for errors and omissions. Your approval (verbal or otherwise) constitutes acceptance of full responsibility for all errors, and omissions and legal and ethical compliance in this design. This includes, but is not limited to spelling, print location, print size, and ink colors. TEED SHIRTS will not accept liability for errors overlooked at this stage of proofing. Please contact the art department if you have any questions or concerns regarding this proof.
TEED SHIRTS, INC. • INFO@TEEDSHIRTS.COM • 512 398 4441 • 505 E. MARKET STREET LOCKHART, TEXAS 78644